Hosting City
Sarajevo

Sarajevo is the largest city and country's administrative, economic, cultural, university and sport center.
Due to its long and rich history of religious diversity and coexistence Sarajevo has often been called the "Jerusalem of Europe".
The history of Sarajevo is very rich. Sarajevo became a city in the 15th century. It is also a place of assassination that sparked World War I. 1984 it was hostcity for Winter Olympics. More recently, Sarajevo underwent the longest siege in modern military history during the Bosnian War.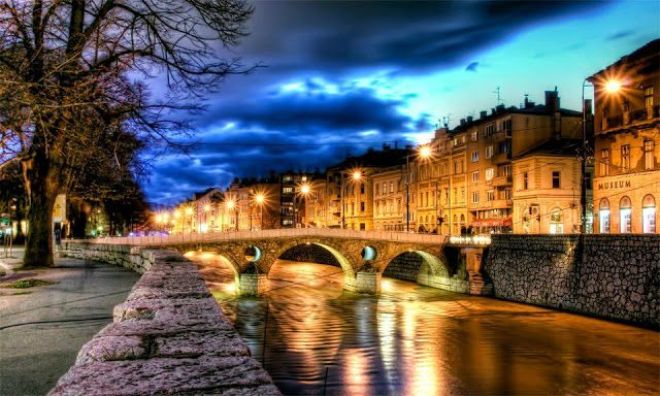 The city itself has its fair share of hilly terrain, as evidenced by the many steeply inclined streets and residences seemingly perched on the hillsides.The Miljacka river is one of the city's chief geographic features. It flows through the city from the east to the west where eventually meets up with the Bosna river.
Important Information for Visitors
Time zone
CET – Central European Time (Europe)
GMT +01:00
Climate
medium continental
average summer temperature 19,1°C
average winter temperature –1,3°C
average annual temperature 9,5°C
Population
The city of Sarajevo in (the area of) four municipalities (Old City, Center, New City and New Sarajevo) has 297,416 residents.
Area: 141,5 km2

Important phone numbers
Police – 122
Firefighters – 123
First Aid – 124
Sarajevo Taxi – 1515
Airport – +387 33 289 100
Electricity
The electric supply is 220V with 50Hz frequency.

Water Supply
It is safe to drink tap water in Sarajevo.

Currency
Currency in BiH is Convertible Mark. The international abbreviation for currency is BAM, while KM is used locally (1,95 KM = 1 Euro). You can exchange your currency in any bank or post office. Banks are generally open from 08:00 to 18:00 on working days, and from 09:00 to 13:00 on Saturdays. Main post office is open from 07:00 to 20:00 from Monday to Saturday.

Public Transport
Sarajevo is well connected with a network of trams, trolley-buses, buses and minibuses. The one-way ticket for an inner-city zone is 1,6 KM if you purchase it in a kiosk and 1,8 KM if you purchase it with a driver. The ticked must be punched as soon as you enter the vehicle. Failure to do so will result in a fine, on the spot. The bus line connecting airport with Baščaršija runs several times per day and it costs 6 KM (3 Euros) one way.

Taxis
Sarajevo has one of the cheapest taxi services in Europe. Several private taxi companies operate in the city 24 hours a day. For example, taking a taxi from Sarajevo Airpost to the city centre will cost between 17 and 20 KM. All vehicles use the taxi meter. The driver will issue the receipt upon a request.


Where to shop
Souvenirs
To pick up authentic souvenirs, head to Baščaršija, the city's Turkish quarter. During its golden period, it boasted 12 000 various shops selling products and services of 80 different craftsmen and tradesmen. Baščaršija's most popular street is Kazandžiluk (Coppersmith Street), where you can find superbly created engraved copper products: džezve (coffee pots), fildžani (cofee cups), ibrici (copper water dish). The city's jewelry makers were well known throughout Ottoman Empire for their particular designs. Jewelry makers (silver and gold smiths) are mostly located on Gazi Husrev-begova Street (Zlatarska or Goldsmiths' Street). While in Baščaršija you can also visit the Gazi Husrev Bey's Bezistan (covered bazaar) which was built between 1537 and 1555 and newly renovated City Hall.
Shopping Centers
Sarajevo is increasingly becoming an interesting shopping destination. Modern boutiques and fashion shops, as well as those featuring designs of local designers, can be found along Ferhadija and Titova Street. We recommend a visit to BBI Center, located in the city center and Importanne Center, located near the Wilson's Walkway and Historical Museum of BiH. There is also the recently opened Alta as well as SCC shopping center on Marijin Dvor.

Natural landmarks
Vrelo Bosne
Vrelo Bosne (engl.: Spring of the Bosna River) is the spring of the River Bosna located in the central region of Bosnia and Herzegovina, southwest of Sarajevo.
The park is usually entered by foot or by horse-carriage via the main avenue leading into it. The avenue itself contains traditional buildings from the Austro-Hungarian-era offering a peek into the luxuries of the past.
The paths and roads inside the park are ideal for walks and give the visitors the opportunity to take a closer look at the bubbling streams and waterfalls.Typical animals are ducks and swans among others.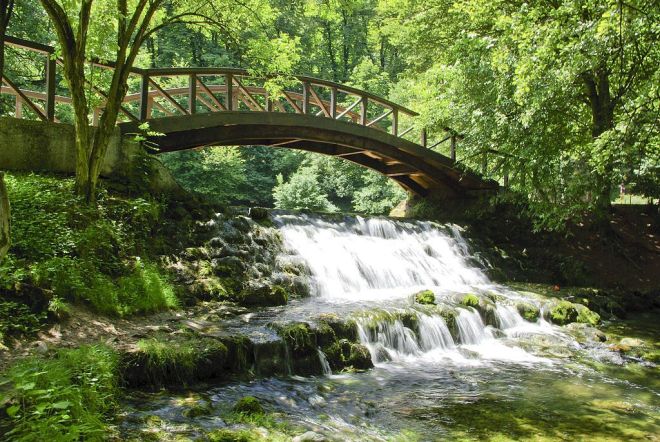 Olympic mountains
Igman, Bjelašnica and Jahorina are aproximatly 40 minutes drive form the city center. These Mountains hosted Winter Olympics in 1984. Extraordinary configuration, good quality snow, suitable climate make these mountains worth of seeing.
Contact
Postal address:
Ismeta Mujezinovića 30,
71000 Sarajevo,
Bosnia and Herzegovina
Contact details:
Web-site: cmbebih2015.dmbiubih.org
Email: dmbibh@gmail.com